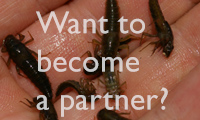 FREDIE aims to build an online identification system for all European freshwater fishes, freshwater molluscs and mayflies.
To do so, we will
Create a DNA Barcode reference library for Europe's freshwater biodiversity based on multiple individuals per species covering all major European drainages. Only sequences linked to publically available voucher specimens, deposited in a network of collections and identified by profiled experts will be considered.
Identify problematic taxa that can for various reasons not be identified unambiguously by the classical COI region and test alternative molecular markers for those species.
Include associated morphological characters in the identification system to assist the identification process where applicable and necessary.
The final product will include additional tools for the analysis of sequence data, from widely available search tools (NCBI BLAST) to refined tools such as HMM profiles and GMYC and ABGD analyses.