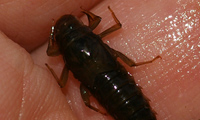 FREDIE is steadily including new partners who are interested to link their collection to the FREDIE network

Just contact Jörg Freyhof (joerg.freyhof@mfn.berlin) or Matthias Geiger (m.geiger@leibniz-zfmk.de) with any questions.

You will:
Improve the visibility of your collections and by this increase the chance to be included in future collaborative projects on all levels (European, Global).
Improve the chance to find partners for future collaborative studies and publications.
Receive a code, where the DNA and rest of the tissue you provided is professionally stored.
Have the full right to use the CO1 sequences of your materials in your publications without adding any FREDIE partner as a co-author. (FREDIE should be acknowledged in publications.)
You need to have:
A publically open collection of tissues linked to vouchers of freshwater fishes, molluscs or mayflies.
Photographs of the vouchers.

All property rights for the use of the DNA and tissues you provided are guaranteed. No additional analysis will be performed without your approval. No DNA or tissues will be given to third parties without your approval.

We will:
Extract the DNA from the tissues you sent.
Sequence the 5′ "barcoding" region of the mitochondrial COI gene.
Professionally store the tissue and the DNA or send it back to you.
Link your voucher database to the FREDIE network and from there to other global networks and/or professionally store the vouchers you provided.
Learn more where your data will be linked to: